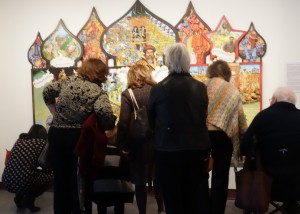 Russia Through the Looking Glass: Terror, Humanity, and Geo-Politics through History opened Oct. 26, 2014.  DARLING GODSONNY STALIN, a complex mixed media piece 9′ x 6,' went on display for the first time.
The exhibit was extended at the Mooney Center Gallery through Nov. 25, 2014.
For closeups of each piece below, please click on its image (for some, scroll down to see larger details).
_____
_____
_____
_____
_____
_____
_____
For more about Ivan the Terrible, click
here
.