About Anne
Anne Bobroff-Hajal paints detailed and whimsical visual stories about powerful human motivations: love, greed, grief, competition, fury – as shaped by the geographic landscapes on which those humans live.  Her large, icon-like, satirical mixed media polyptychs about Russia (and now in dialogue, the United States) reflect the commonalities among icons, graphic novels, animation storyboards, and political cartoons, all of which tell stories in pictures.  She has developed a complex process of repeated layering of painting on digital images of her own paintings and of photographs.
Columbia University's Harriman Institute for Russian, Eurasian, and East European Studies is currently exhibiting Bobroff-Hajal's art about Russia, PEASANTS, CLANS, AND EFFERVESCENT ABSOLUTISTS!   She has exhibited for years in the tri-state area, most recently as part of ArtSpace New Haven's Vertical Reach accompanying Yale University's sister conference to the MANIFESTA 10 Biennial's Public Program (St. Petersburg, Russia).   Her previous solo show was RUSSIA THROUGH THE LOOKING GLASS: Terror, Humanity, and Geo-Politics Through History, at the Mooney Gallery, College of New Rochelle.
In conjunction with the Columbia-Harriman exhibit, Bobroff-Hajal's catalogue is available for online viewing, free for the duration of the exhibit.  Please view the flippable pages in full screen.  It's an unusual,very personal artist's catalogue with a sometimes-startling view into Bobroff-Hajal's artistic process and the Russian history visualized in her art.
J. Arch Getty, historian of Russia and the USSR, wrote of Bobroff-Hajal's art: "I've never seen such a marriage of art, humor, and serious historical knowledge.  I'm dazzled.  Your Catherine the Great, who 'flies' by means of stilt-walking serfs hoisting her and her heavy decorative gold wings, does more, and more vividly, than many books on Catherine."
Chester Dunning, Russian historian, wrote, "I have been teaching Russian history for over thirty years, and your art really captures the sad, crazy quilt of Russian history and culture.  Congratulations on getting it exactly (insanely) right!"
Bobroff-Hajal has been an artist all her life – with the enhancement of earning a Ph. D. in Russian History (mentored by Gerda Lerner and later William G. Rosenberg).  Bobroff-Hajal lived in the USSR for an extraordinary year researching what became her scholarly book, Working Women in Russia Under the Hunger Tsars: Political Activism and Daily Life.  She recently returned to St. Petersburg, Russia, for the Manifesta 10 Biennial, particularly its Public Programs curated by Joanna Warsza.  She conducts interviews for Yale University Radio's The Art World Demystified, and has written extensively about Russian history and art.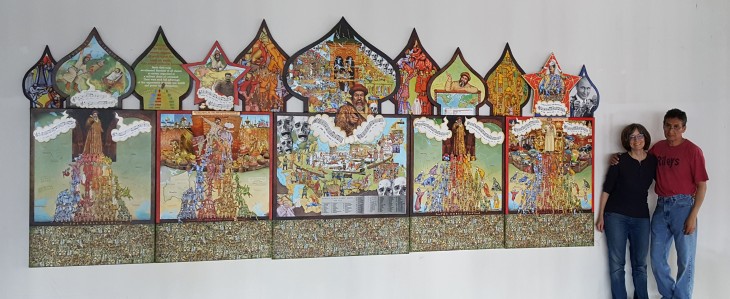 –